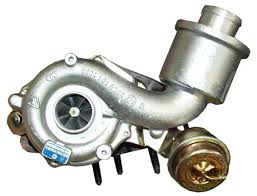 Depending on your engine code, the K03 framed turbo was one of the most commonly fitted to the 1.8T engine.  There are a few different variants of this turbo, such as silenced or un-silenced and the K03 and K03s versions.
The K03, is the smallest one and was only really fitted to the early versions of 1.8T and the easiest way to tell is by looking at the blue tab on the compressor side of the turbo to see the part number.  Alternatively, if the turbo is off the car, you can count the number of blades on the compressor turbine.
K03 has 12 blades
K03s has 8 blades
K03 vs K03s

The K03 turbo, will realistically see around 190-200bhp once remapped depending on how much supporting hardware there is fitted such as downpipes, intercoolers, intake pipes etc.
The K03s turbo will range in power when remapped, with a simple stage 1 remap taking power to around 210-220bhp. If full stage 2 hardware and supporting mods are fitted then the typically power can range from around 235bhp-255bhp.  Others have seen more power if the engine is really healthy however, the average figures are quoted above and every car's setup is different.
With the K03 framed turbos, the best method to extract power is the ensure that you can get as much cold air into the turbo as possible, and ensure it also has a good exhaust system to remove the exhaust gases.   Air flow is crucial for these small framed turbos, and the easier you can get the air flowing through the turbo, and across the engine cylinders the better.
Some of the best mods you can do is fit a oversize silicone intake pipe from the likes of R-tech, Badger 5, SFS hoses.  Be wary of the cheaper versions found on eBay, as their diameter is very small and can end up causing a restriction, especially when compared to the larger versions.
As these are a small turbo, once you start to increase the boost pressure you also get a increase in heat produced. A small turbo that's boosting to the max will have extremely hot air coming out of it, which needs to be cooled down before entering the engine.   A Front Mount Intercooler is required for a good stage 2 setup as the stock Side Mount Intercooler simply cannot cool the air down sufficiently enough.  Check our Intercooler section for advice on choosing the right intercooler setup.
To view our full guides follow the links below!